HANK MULVIHILL VIDEO FILES
2015 December 23. CNBC Power Lunch live. Length 2:25.
U.S. stocks could do well in 2016 Q1. Alphabet and Amazon could become larger than Apple. Big Cap Tech is an extrordinary sector. The Fed has created a positive environment for capital to flow to the U.S.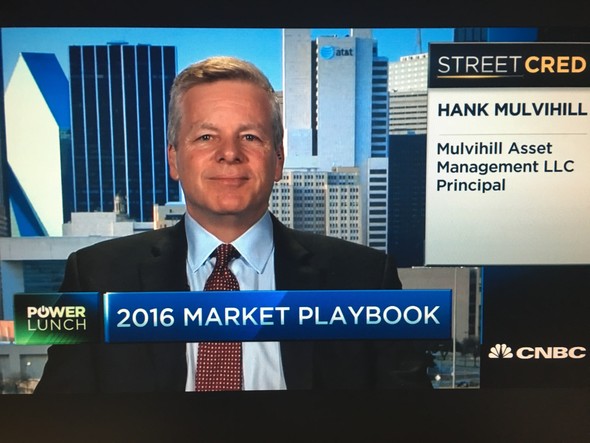 ===============
2011 March 3. (recorded.) Program aired July 17, 2011. Very few commentators were praising stocks in early March 2011.
The McCuistion Show. Will Your Investments Outlive You? Length 28:00
"How can you ensure your future buying 20 year bonds at 2%? Buy quality stocks paying increasing dividends and let them compound for you."
=============
2009 October 9. "There is no chance of a recession based on the yield curve the way it currently exists. The FED controls the short end, and on the long end, they are controlling some of that as well." Length 00:53
=============
2009 October 9. "The world has plenty of everything, and the next several years will be a strange environment of fighting deflation while financial assets are pumped up." Length 00:35
============
2009 October 9. "This strength of this market rivals 1982 and 2003. I believe this goes on for a long time." Length 00:52